Regular price
$519.00 USD
Regular price
Sale price
$519.00 USD
Unit price
per
Sale
Sold out
Custom Tonfly TFX Full Face Helmet.
REQUIRED: Fill out form on link below to process order. 
Note: Custom Tonfly TFX full-face helmets are built to order by Tonfly per your measurements, colors, and options. Stock item's turnaround time is approximately less than 1 week if available. Custom turnaround time varies but is usually approximately 6 weeks. Contact SDSD Retail for order questions or the current ETA on manufacturing your custom TFX helmet.
UPDATE: As of Jan. 19th, 2023, custom turnaround times are backed up through Tonfly and are estimated to be around ten weeks for the helmets. Thank you for your patience. 
A next-generation helmet by Tonfly is specially developed for high-speed flight.
TFX is the first Full Face Helmet made by Tonfly as a result of intense Research and Development. It was developed to have the tightest fit and stability possible, even at very high speeds.
The main reason behind the decision to develop a modular helmet and the flip chin is simply to be able to fit in it. Otherwise, it would not be possible. Once the helmet is on, it is possible to keep just the visor open.
TFX is engineered to have a tight fit that protects from the base of the head and covers all around the neck. Tonfly simply wanted a small, protective helmet made out of the highest quality materials. The flip chin also allows for communicating easily without taking off the helmet, such as for quick debriefs between tunnel sessions.
You only need one hand to open the visor or the chin piece. The visor opens by pushing the hook out and up with your thumb. The chin piece opens by pushing the button down with your index finger as you lift the chin up with your thumb.
The modular lining system of the TFX allows the tightest fit and combines maximum comfort with great stability giving you real protection from the base of the head up. The TFX lining is made with top-quality antiallergic materials. The lining is removable and washable.
Tonfly's TFX is protective for real. The shock-absorbing EPS liner keeps your head safe. The shock-absorbing EPS liner is combined with the double-density foam ears. Both ears can accommodate one audible altimeter on each side and fits the most common audible from LB Altimeters: Solo, Optima, Quattro, and Protrack.
The TFX features a double ventilation system to keep your mind fresh even after intensive use. There are 2-way in/out airflow vents at the top and back of the helmet as well as an in-air flow vent for internal visor ventilation.
The TFX has been inspected and tested for the following:
Construction
Shock absorption capacity
Determination of field vision
Penetration test
Retention system performance
-20 degrees Celsius cold conditioning
50 degrees Celsius hot conditioning
UV artificial aging
Water artificial aging
Crash Rated European standard EN966: 2012 + A1: 2012, category HPG for AIRBORNE SPORTS
Visor rated under standard EN166 for Personal Eye Protection
Complies to the newly developed Skydiving Helmet Standard XP S 72-600
So wide and so clear describes the TFX visor with a super-wide visual field as well antifog and anti-scratch system. The visor is 2.3mm thick polycarbonate that guarantees a wide visual field without image distortion. The TFX visor is available in clear, brown, or smoke.
The visor has been rated under EN166 for Personal Eye Protection and tested for the:
Field of vision
Lateral protection
Refractive powers
Quality of material and surface
Temperature stability
Diffusion of light
Surface damage by fine particles
Transmittance (UV stability)
Increased robustness
High-speed particles
Ignition
Mix the colors on your TFX as you like it! You can mix colors between the shell, chin, and side plates. Available colors for the TFX, in Matte or Gloss, include:
Dark Grey
Lemon Yellow
Black
Bay Blue
Bright Green
White
Orange
Pink
Red
All standard colors above, as well as the clear visor, is included in the same base price. The smoke or brown visor, the X-Design, and any other add-ons are extra.
Sizes:
Shell 0 with a 66.5cm (26.2 in) face circumference and available liner sizes of 54cm, 55cm, 56cm, and 57cm
Shell 1 with a 68cm (26.8 in) face circumference with available liner sizes of 56cm, 57cm, 58cm, and 59cm
Shell 2 with a 69.5cm (27.4 in) face circumference with available liner sizes of 58cm, 59cm, 60cm, and 61cm
The inside lining is made in two parts to allow fitting to different head shapes. The mainlining is based on the head circumference. The secondary lining is based more on the shape of your face and is available in 3 different thicknesses: 5mm, 10mm, and 15mm. This allows three different fits for every available size, giving the TFX 36 different available size combinations between shell size, mainlining, and secondary lining.
Additional details:
Crash Tested EN966 + EN166
Complies with Skydiving Helmet Standard XP S 72-600
Shell Carbon Fiber Aramid
Visor Polycarbonate 2.3mm
Total weight Approximately 950 grams
Sizes 54cm to 61cm
Helmet type Modular
Measurements:
You can submit your own measurements following the measuring guide below. See the image below for a demonstration of the 3 measurements, plus the additional description below. Contact us for additional help with how the measurements are taken.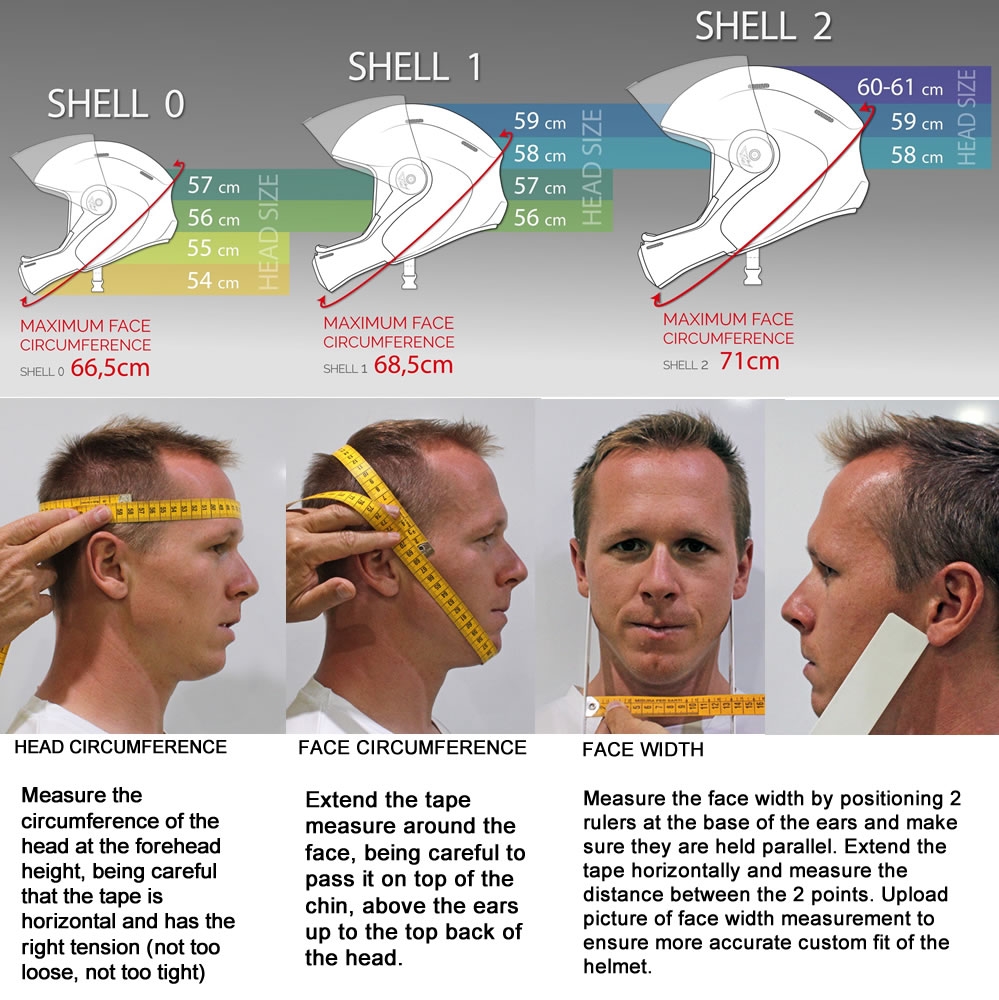 Head Circumference: Measure the circumference of the head at the forehead height, being careful that the tape is horizontal and has the right tension (not too loose, not too tight)
Face Circumference: Extend the tape measure around the face, being careful to pass it on top of the chin, above the ears up to the top back of the head.
Face Width: Measure the face width by positioning 2 rulers (or similar objects) at the base of the ears and make sure they are held vertically and parallel between them. Extend the tape horizontally and measure the distance between the 2 points.
Upload a photo of the Face Width measurement being taken.
To configure your TFX, write in the desired colors above, or for further customization, please follow the instructions below.
The price listed is the base price of the TFX. Any additional options selected with the online Tonfly Configurator will be added and charged to you after the Skydive San Diego Crew confirms the order with you and Tonfly.
Share
View full details
Collapsible content
HOW TO CUSTOM ORDER

Begin by configuring your Tonfly TFX online with all your options, colors, and any extras

In Step 3 (Comments & Requests), write Skydive San Diego Customer
At Step 4 (End), enter your first name, your last name, and then the SDSD e-mail address sophia@skydivesandiego.com
Click SAVE CONFIGURATION and copy the link for Our Order Form
Next, you return to skydivesandeigoretail.com here to pay for your helmet by adding this helmet to your cart and checking out on our site.
Our Skydive San Diego Retail Crew will combine your Tonfly TFX configuration and your in-shop head measurements and will contact you to go over any additional questions and/or changes and then finalize the order for production with Tonfly.
As soon as the TFX arrives from Tonfly, it will ship to you with any additional items ordered from Skydive San Diego Retail!

IF STOCK IS YOUR SELECTED OPTION: 

We will match our stock model's shells and lining to fit our measurements, or stop by our shop at SDSD to try on our helmets and fitting kit!
TIPS

MAKE SURE WHEN SIZING TO SIMULATE HOW YOUR HAIR AND HEAD GEAR WILL BE. I.E IF YOU WEAR A NECK BUFF FOR YOUR HAIR NORMALLY WHILE JUMPING SIZE YOURSELF WITH IT ON.
SHIPPING

UPDATE: As of Jan. 19th, 2023, custom turnaround times are backed up through Tonfly and are estimated around 10 weeks for the helmets. Add a week for processing and shipping once inspected by store. Thank you for your patience.